Setting Up a Force Carbonation Manifold
For the home brewer that tends to procrastinate (like most of us), the set up of a force carbonation manifold can turn around a time management disaster with little pain. Force carbonation is the technique of using CO2 or a Nitrogen and CO2 mixture to get the bubbliness into your beer without having to wait for the yeast to do it naturally. Setting up a force carbonation manifold allows you to force carbonate many kegs at once. The more outputs you have on your manifold, the more kegs you can force carbonate at once.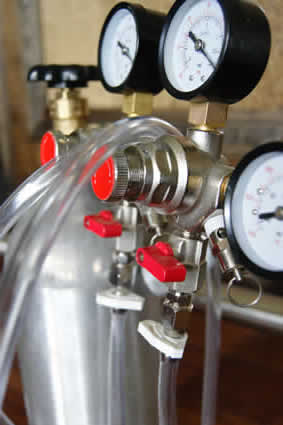 A dual regulator and some tee connectors can build a force carbonation system for multiple kegs while still giving you seperate control for different CO2 pressures on each guage.
Imagine you have been asked to make beer for a friend's wedding reception. You brew the beer plenty of time in advance, but a problem arises when one of the batches of beer gets contaminated. You have to throw the initial batch out and start with a new batch, but don't have time to carbonate it properly before the day of the reception. Hence the usefulness of the technique of force carbonation. See the Force Carbonation Chart
The Force Carbonation technique can also be used to add more carbonation to a beer just for carbonation's sake. Carbonation is considered a component of flavor, so if you have a specific kind of brew you are making that requires a particularly intense bubbliness in the finished product, you can use this technique to give the brew that extra zing.
First, I'll go over the basic technique of force carbonation, and then explain how we can build a CO2 manifold and apply this technique to many kegs at once.
If you are in a hurry and using force carbonation as a way to get your beer drinkable in time for an event, you should first chill your keg down to serving temperature. For most beers this will be around 45 degrees Fahrenheit, depending on the style of beer. If you can get it down to around 35 degrees Fahrenheit, the CO2 will more easily absorb into the beer. After the beer is chilled, hook up your CO2 tank to the keg and set the tank for around 15-20 PSI. Place the keg on it's side and open 'er up with the CO2. You will hear the CO2 bubbling into the beer. Now, gently roll the keg back and forth, as by mixing the beer and CO2, more carbonation will seep into the mixture. When the sound of the carbonation entering the mixture subsides, this step is done.
Now you can leave the CO2 on to maintain pressure into the beer for three days, give or take, and your beer should be more or less carbonated. The longer you can wait, the smoother and more even the end result taste will be. The rolling technique really helps speed up the process, which otherwise would not have the beer adequately carbonated in such a short amount of time. Using the rolling technique should have a very nicely carbonated beer by seven to nine days in.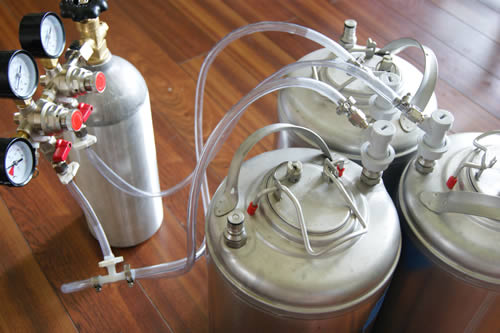 A force carbonation system injecting CO2 into three 3L home brew kegs at the same time.
Now if you are one of those home brewers that does not procrastinate and always has your beer ready on time, you can still use the force carbonation technique as a method of attaining the exact level of carbonation that you want in your brews. This is where it can come in handy to build a force carbonation manifold to help you force carbonate a number of different brews at once.
Setting up a CO2 tank with dual or triple regulators can allow you to force carbonate many different beer at once. For the avid home brewer who likes variety, this can greatly cut down on production time. You will need only a few tools besides the hardware to make such a setup: You will need a couple of adjustable wrenches, or preferably a fixed end wrench set, and thread tape.
In terms of hardware, you should decide how many different points of pressure you are going to want. Most kegerators can store no more than four soda kegs of home brew, so unless you build your own walk-in cooling room (I have been inside one a home brewer built in his garage), you will probably want no more than four differently regulated CO2 outs from your tank. Once you know this, you can visit the plumbing section of your local hardware store, or the air tool section, and select the fittings and shut off valves that you will need.
The kind of CO2 regulator you will be looking for is called a secondary CO2 regulator. These regulators can be daisy chained together to form a manifold. Many home brew supply stores carry these items, and they are easy to order online pre-assembled in the configuration that you want for your force carbonation manifold. If you still want to D.I.Y. it, remember that all of your secondary regulators except the last one need to have two gas out lines – one for the next regulator, and one for the shut off valve that will lead to the gas line to your soda keg.
When assembling these CO2 regulators into a manifold, remember to leave yourself plenty of length in the way of CO2 gas line. It can get tight in any space trying to crowd four to five kegs around a CO2 tank with manifold. You can also order or make a splitter for each of the CO2 gas outs that are coming off of your gas manifold. With a splitter, you can use the CO2 pressure coming off of one gauge to force carbonate two kegs at once.
When using the force carbonation manifold, I recommend using a longer time and lower pressure to carbonate your beers. You probably will not need to use the technique I described earlier to roll the keg gently to facilitate the CO2 gas and liquid mixture. Instead, a slower and steadier technique will ensure that foaming over does not happen. Over foaming is definitely a risk with the rolling technique, which is why I employ it only in home brew emergencies. You can also reference the CO2 Force Carbonation chart to see exactly what pressure is best suited to the temperature of the beer you are force carbonating.
| | |
| --- | --- |
| | Christian Lavender is a homebrewer in Austin, TX and founder of Kegerators.com and HomeBrewing.com. |
Related Home Brewing Articles:
Emergency Homebrew Techniques: Blowoff & Force Carb - Techniques when you need to carbonate homebrew quickly.
How to Bottle Your Homebrew From a Keg - A How To For Bottling Your Homebrew from a Keg using a Beer Gun.
Kegging Equipment - Keg your beer at home and dispense your homebrew without all the equipment and mess of bottling.
Published: May 16, 2012
For additional information on home brewing or homebrew topics please visit our home brewing article center.