Branding Your Homebrew
4 easy ways to polish up your brews at home
Any marketing class will tell you that the art of branding is what ultimately sells your product to the masses. Making connections with the consumer through personal stories and antidotes not only lures them in, it also allows the public to get to know you, while enjoying your product. Even though not all of us home brewers are aiming to hit the big time and turn pro, branding your creations has become an integral creative part of the hobby.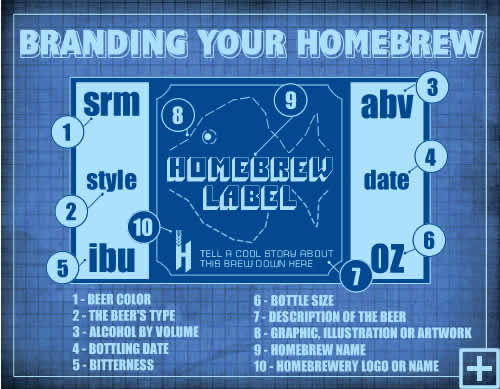 1. LABEL YOUR HOMEBREWS
After talking with several home brewers about naming their beers, I realized that it wasn't as popular as I had once thought. While some brewers came up with the name prior to brewing or immediately there after, the majority didn't specifically name them at all.
Ask yourself why you are making that style. Is it one that you have loved for awhile or are you branching out and taking a risk? Does it bring back a story or a memory? Or does something during the brewing process conger up one? Is this beer in honor of someone or in celebration of a holiday?
Some of the most unique homebrew names I have come across, and used myself, have included some kind of story. Most recently I brewed a spruce ale for the simple fact I needed something to do with my nearly dead Christmas tree. Go with a story that not only draws your friends and family in, (as if free beer needed any kind of incentive), it also gets them to feel as if they are a part of your passion.

2. NAME YOUR HOME BREWERY
When thinking of a name for your home science lab, be sure to take into account the longevity that this name will have. Although you may love your dog Rover, will you want to keep referring to him ten years down the road as your brewery's namesake? Also be careful of using specific location names. This allows your home brewery to withstand any relocation you may end up doing.
Choose a name that represents you but doesn't necessarily use your actual name. Go with a nickname, acronym, or hobby themed moniker in order for it to stand the test of time and be able to adapt to your ever changing brewing style.
3. CREATE A LOGO
The vastness of the Internet allows us to find a picture of just about anything. Despite the fact that this easiness is tempting to copy and paste an image that you like, you will want to take the time and create your logo to be one of a kind for several reasons. Not only would this allow for a seamless transition if you were ever to go pro, it also demonstrates to people that you are serious about your craft.
Talk with your friends and family. Someone probably knows a person that can draw what you want in exchange for free beer or try a freelance designer from elance.com or freelance.com.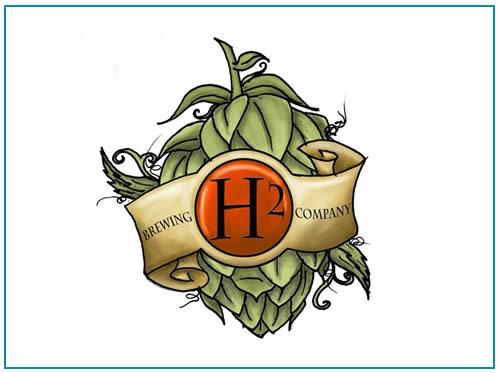 Custom logo designed for my home brewery.
But don't just settle; be sure to communicate with your newly commissioned artist to get exactly what you want. If you are going to be using this on labels, merchandise, and glassware, you want the logo for your home brewery to be just right.
4. CREATE OTHER CHOTCHKIES
Now that you have a name and a logo, it is time to have some fun. Start to think about how you can outfit your basement/garage/spare bedroom with your gear.
Start small: Pint glasses, coasters, t shirts, stickers and posters are a must. Aren't those the things that you walk into a brewery looking for? Plus, they make great gifts for friends and family.
Consult some local businesses that specialize in clothing customization and engraving. They are usually able to work with pictures or computer files that include your logo. With their expertise and your ideas, you will be able to tailor your products to your individual style.
Another fun thing to setup is a home brewery growler program. If you have your beer on draft at home, invest in a dozen growlers or so and have your logo etched on. Let your friends and family borrow the growlers and bring them back for a refill! This keeps your home brewing efforts fresh in their minds as they are enjoying your brew.

Branding, by definition, is act of identifying a name or design associated with a good or service used as a means to differentiate one product from another. Personal stories, humorous antidotes, or an emotional connection to such a product is what motivates us as consumers to become repeat customers. Connecting this philosophy to your unique homebrews is essential. You are in this hobby because you love beer, you drink beer, and you want to make your own beer. Go that extra step and brand your homebrew passion.

| | |
| --- | --- |
| | Heather Erickson is a home brewer and math teacher in Tacoma, WA. Her home brewery is named H2 Brewing. A craft beer lover for over a decade, Heather finally made her first batch of beer in 2010. Over the past three years, she has experimented with different styles, ranging from a triple hopped Barleywine to a Peanut Butter Porter. With hops in her family, her great grandfather was a hop farmer, it is no surprise that Heather's favorite style to brew and drink is an IPA. She religiously brews 10 gallons a month on a SABCO Brew Magic system. |
Follow Heather on her homebrew journey



Related Articles:
Expanding Your Home Brewery - Techniques and equipment involved when upgrading your home brewery.
Filling Growlers - Proper techniques for filling growlers from your kegerator.
Glassware Guide - The correct glassware for your homebrew.
Published: February 22, 2013
For additional information on home brewing or homebrew topics please visit our home brewing article center.