Proper Techniques for Filling Growlers from Your Kegerator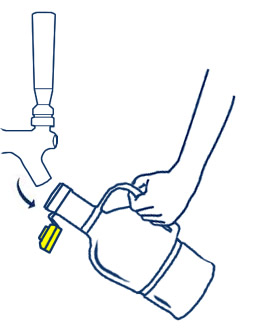 Filling growlers from a kegerator is a quick and easy way to transport beer to a party or bring beer home from a local brewpub.
Most home brewers love to share their beer. It is not always desirable to take an entire keg to a party, though. If you are interested in bringing SOME, but not ALL of your home brew to a party, filling a growler from your kegerator may be the perfect solution. You must exercise care when filling your growler so that you do not over pressurize it or have problems with your home brew foaming over. Also, insulative growler coozies and ice blankets are available to help ensure that your beer filled growler stays cold and crisp. Overall, filling a growler from your home keg dispensing system is a very useful technique.
For you home brewers out there, I'm sure this situation is familiar: you bring a keg to the party, and everyone wants to try it. It doesn't take long before your keg is sucking CO2. Especially for a specialty ale or high potency barley wine style ale, it is nice to make it last for a couple of weeks at least.
Homebrewers love to share homebrew when they have it, but once the keg is tapped, most have a hard time not sharing all of it. Though we've seen it many times, its always a big suprise how quickly five gallons can go "down the drain" among friends. By utilizing a growler instead of a full keg for parties, home-brew can go a lot further. Carrying a growler full of beer into a party is a lot easier than toting a 5 gallon soda keg, CO2 canister, ice, bucket, and all the rest of your gear into the scene.
When filling a growler from a home beer dispensing system, you have two obstacles: foam and pressure.
Bottom Fill Technique
To avoid foam, one should attach a length of ½" food grade nylon tubing, or "beer line", to the spigot on your kegerator's tap. This length of tubing should be long enough to reach just above the bottom of the growler that you are filling with beer. Half an inch is a good amount of room to leave. This is called the bottom fill technique. Next, turn your CO2 pressure down to about 2-4 PSI. This will help eliminate excess foam from CO2 pressure. Now, pour some beer out of the beer dispenser and beer line into a glass until the foam runs out and then transfer the beer line to the open growler. If the growler is chilled, it will help reduce foam as well.
Top Fill Technique
If you don't have the extra beer line lying around, you can always top fill it, but you might run into foam problems. To reduce the foam potential of a top fill, make sure to tip your growler, so that the beer stream hits the side of the growler at an angle. You should also do the following for a top fill:
1. Reduce CO2 to 2 PSI.
2. Chill the growler prior to filling.
3. Apply an ice blanket or growler coozy to the growler
Growler coozies are very useful for not only insulating your glass growler, but also for protecting the growler from accidental bumps that could possibly shatter your party contribution. If your local brewpub sells growlers of beer, they will most likely have coozies for sale with their logo printed on them. You can also find such coozies online or have some printed up with your own name or logo.
Ice jackets are also available for growlers to ensure that your growler's beer stays cold on the ride to the party. These growler ice jackets work just like an ice pack. To chill them, just throw them in the freezer for a few hours prior to beer pouring time.
When filling your growler from the kegerator, be wary of using any unit that purges air from the growler by means of forcing excess CO2 into the growler. Such units work well with plastic bottles, but the glass growler will shatter under such pressures.
Good luck with filling your growler!
Related Articles:
How to Bottle Your Homebrew From a Keg - A How To For Bottling Your Homebrew from a Keg using a Beer Gun.
10 Homebrew gadgets to make brewing easier - Top ten homebrew gadgets that have helped new brewers save time and money.
How to Throw a Brew Tasting Party - Learn how to throw a brew tasting party that really highlights the most important aspects of beer.
Thinking about upgrading your home brewery? Browse our Professional Home Brew Systems.
Published: February 18, 2011
For additional information on home brewing or homebrew topics please visit our home brewing article center.