Homebrew Chicken Drummettes
with a homebrew brine and honey-garlic glaze
If you have homebrew flowing, preferably a dark stout or porter and a fist full of spices then you have yourself the makings of a great homebrew brine. I swim just about every type of meat in a homebrew brine of some sort before cooking and the result never disappoints. (See my smoked pulled pork in homebrew brine recipe) The latest addiction? Cheap, small chicken drummettes dredged in a few different marinades and then slow baked to a sticky candy perfection.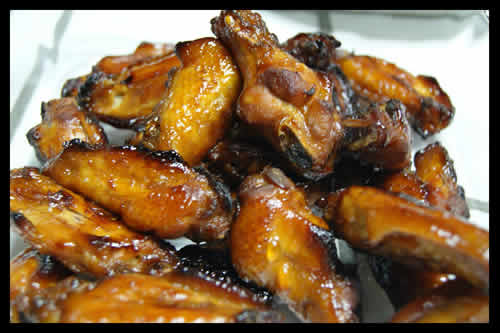 Bust these candied chicken trinkets out at any homebrew beer party or tap room tasting. Now I must warn you these little chicken drums are like crack rock (I can only imagine). They go fast. Seriously... you won't be able to stop eating them, so make sure to make the full batch. You'll need around 4-5 lbs of these little chicken wing drummettes.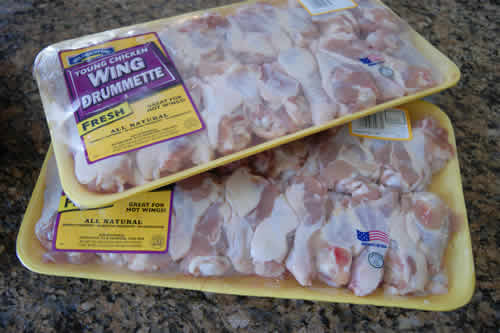 Make a poultry brine to mix with your homebrew. I'm calling this brine my Poultry Punch and it goes something like this...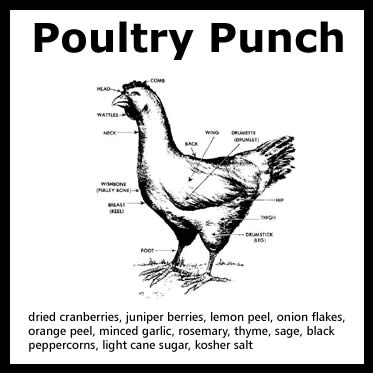 Poultry Punch Brine
4-5 qts homebrew (or as much as you are willing to spare)
1 1/2 cups kosher salt
1 1/2 cups light cane sugar
2 tbsp juniper berries (dried)
3 tbsp cranberries (dried)
2 tbsp black peppercorns
8 fresh thyme (sprigs)
5 fresh sage (leaves)
3 large rosemary (sprigs)
2 tbsp garlic minced (dried)
2 tbsp onion flakes (dried)
1 tbsp lemon peel (dried)
1 tbsp orange peel (dried)
This brine mixture can be altered with any additional herbs, spices or sugars depending on your preference, but this is a good place to start. I say don't over do it on the heat spices with this one. You really want the homebrew to be the sugary star.
Let the homebrew come to room temperature and then add the brine spices. Stir until dissolved in a large pot and then start dropping in those drummettes. Add more homebrew until all of the drums are completely covered.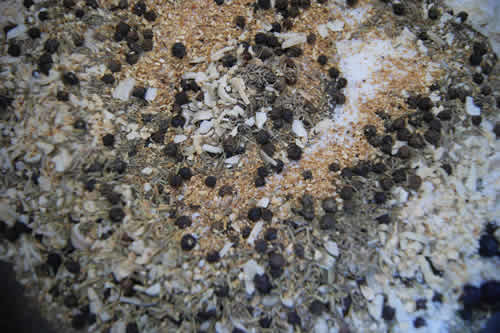 I used a stout to mix with the spices.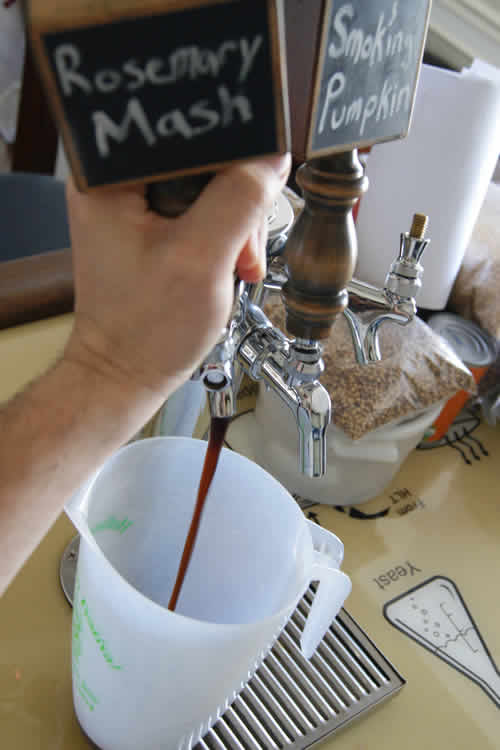 Here is the chicken being showered in homebrew. (That sounds fun.) At this point cover the pot and marinate in the refrigerator for a few hours or overnight.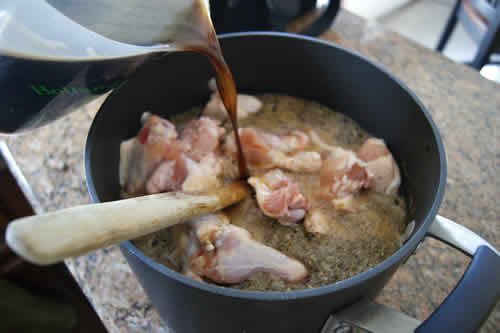 Now we can start on our honey-garlic glaze.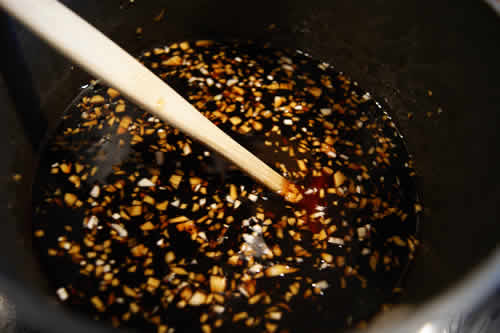 Chicken Drummette Honey-Garlic Glaze
3 cups honey
12 tablespoons soy sauce
4 cloves garlic, minced
4 pounds chicken drummettes
Heat honey, soy sauce, and garlic in a saucepan until boiling.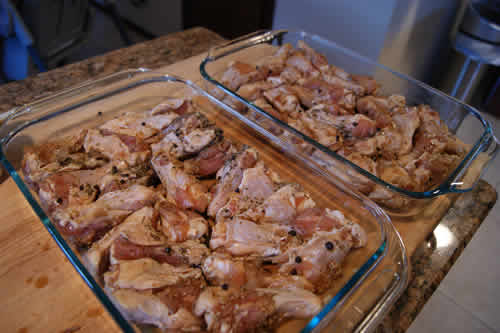 Place the wings in the bottom of two 9 x 13 inch baking dishes, and pour the honey mixture over the chicken. Cover with foil. Marinate in the refrigerator for a few hours or overnight. I know... I know.... now we're talking 2 days of marination if I do the full 24 hours. Trust me, it's worth the wait.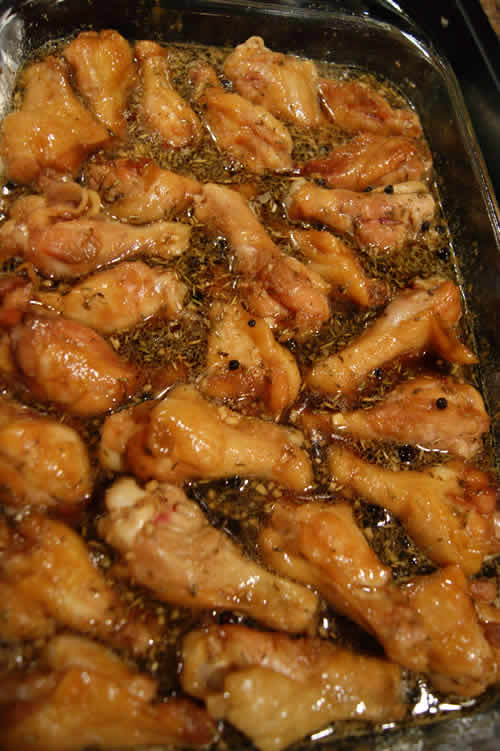 Bake, covered, at 375 degrees F (190 degrees C) for 1 hour. Turn the wings after 1/2 hour. Remove the foil cover, and bake for 15 minutes.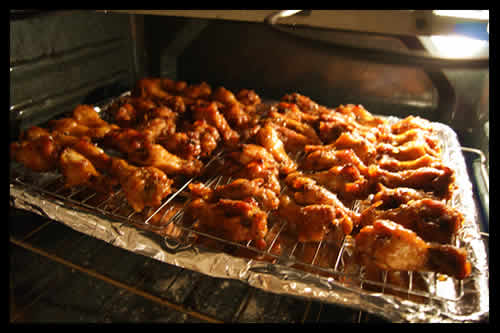 Take the wings out of the sauce and bake on foil lined trays with wire racks for 10 minutes. Turn the chicken wings and cook for another 10 minutes. Devour immediately.
ER--MA--GAH!
| | |
| --- | --- |
| | Christian Lavender is a home brewer in Austin, TX and founder of Kegerators.com and HomeBrewing.com. |
Related Articles:
Smoked Pulled Pork in Homebrew Brine - with homebrew dry rub and slop sauce.
Hop Crispy Treats - Hopped rice crispy treats spiked with a Cascade hop oil cinnamon glaze.
Published: January 24, 2013
For additional information on home brewing or homebrew topics please visit our home brewing article center.