MOST POPULAR STARTER SET
Comes with the supplies needed to brew 5 gallons of beer
Includes a basic home brewing DVD video
5 gallon glass carboy and bung
6.5 gallon fermenter and lid
6.5 gallon bottling bucket with spigot
4 oz. of cleaner
Airlock, hydrometer, bottle & carboy brush, bottle capper and bottle caps, bottle filler, AutoSiphon, hose, thermometer, racking tube and shutoff clamp
*Bottles, recipe kit and brew kettle not included
Dimensions:
N/A
Weight:
N/A lbs.
Warranty:
1 Year
Additional Information: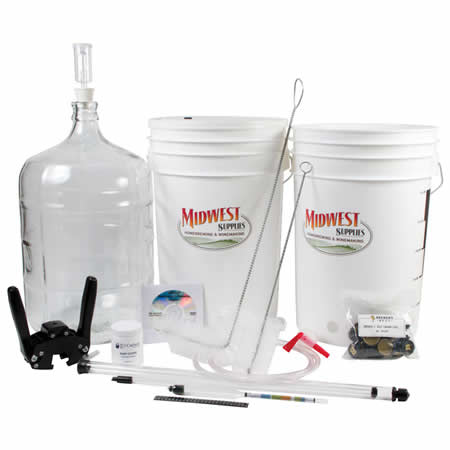 Home Brewing Starter Equipment Kit List:
Instructional Homebrew DVD
5 Gallon Glass Carboy
6.5 Gallon Plastic Fermenter with Lid
6.5 Gallon Bottling Bucket with Spigot
4 Oz. of Easy Clean No-Rinse Cleanser
Drilled Universal Carboy Bung
Airlock (Keeps air out of the fermenter)
Hydrometer (Determines alcohol content)
Bottle Brush
Carboy Brush
Black Beauty Bottle Capper
Bottle Caps
Liquid Crystal Thermometer
Bottle Filler
Fermtech AutoSiphon upgrade
Siphon Tubing
Shutoff clamp
This kit is great for those who have a few of the other items to brew with already.You still need a homebrew ingredient kit, at least a 4 gallon brew kettle, beer bottles or keg (if kegging), and a thermometer.
Free Shipping: No