Looking for a great homebrew gift? You found it.
The 2 Gallon Homebrew Plus Starter Kit with conical fermenter
Entry level homebrew kit to brew some truly amazing beer
Includes the BrewDemon Basic Recipe of the American Prophecy Ale
Kit contains eight 1-liter BrewDemon bottles
This kit includes everything you need to both brew and bottle 2-gallons of great-tasting beer in approximately 14 days
Equipment kit includes: conical fermenter, tap assembly, lid, venting plug, temperature gauge, base with legs, cleanser, instructions
Dimensions:
13.375 in x 10.375 in x 18.375 in
Weight:
6.875 lbs.
Warranty:
1 Year
Additional Information: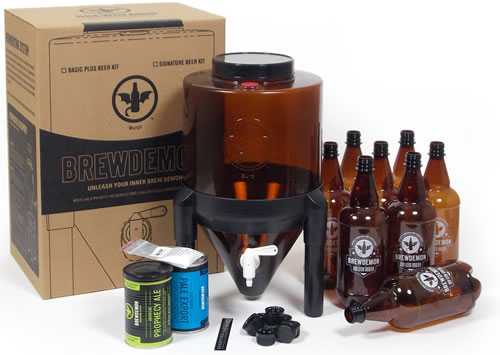 Free Shipping: Yes: Coupon Code LUCKYME