Smoked Pumpkin Saison
There is no shortage of pumpkin beer on the market this time of the season for adventurous beer drinkers. Pumpkin style ales and lagers originated in the U.S. by micro-breweries looking to put the flavors of pumpkin pie into a bottle. The flavor of pumpkin beer is delicate pumpkin usually overpowered by traditional pumpkin pie spice mix. The aroma has a nice spiciness, perhaps a little malt and balanced by a little sweetness. Some brewers add caramel malt which adds some interest and going even further with pumpkin they actually malt pumpkin seeds and use them in the mashing process.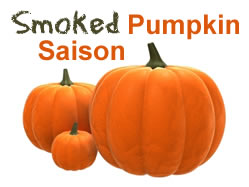 Pumpkin spice ales and lagers are the most common styles of this gourd-like brew, but the Saison style seems to have some peppery spice undertones that could aid in this beers overall balance. The normal gravity range for Pumpkin ale is 1.047-1.056 with an ABV range of 4.9-5.5%. Bitterness is low on this beer around 10-15 IBU with color 6-12L and attenuation medium. The normal gravity for a traditional Saison is 1.055-1.080 with ABV range of 4.5-8.1%. Bitterness is medium to high on this beer around 20-45 IBU with color 6-12L and attenuation super dry.
By blending together these two styles we arrive at some interesting results. The additions of pumpkin and brown sugar gives the yeast more sugars to convert to alcohol making this brew on the higher end of the ABV and Lovibond scale for the Saison style. The White Labs Platinum Saison II yeast WLP566 is moderately phenolic, with a clove-like characteristic and aroma. The pumpkin plays nice with the fruity ester production of this yeast.
To add another layer of complexity to this beer's body I smoked the pumpkin in my wood smoker. I chose Alderwood (SmokerWoodChunks.com) for one of the smoothest, real wood smoke flavors available. Smoking 3-7 lbs of pumpkin at temperatures of 250-300F took around 3 hours. Using 5-20% pumpkin in your recipe is a nice rule of thumb when dealing in squashy fermentables. The addition of pumpkin in the mash, whether it be from a can or freshly cooked, may increase viscosity, causing runoffs in the grain bed. Adding rice hulls to the mash is recommended when lautering with pumpkin to provide bulk and help prevent the mash from settling and becoming stuck during the sparge.
The spicing mixtures vary for pumpkin beers, but normally are made up of cinnamon, nutmeg, allspice, cloves, anise or ginger. The spices can be added at the end of the boil or they can be added during secondary fermentation (dry hop).
Smoked Pumpkin Saison - All Grain

---

| | |
| --- | --- |
| Batch size | 5 gallons |
| Boil size | 6.1 gallons |
| Boil time | 60 minutes |
| Grain weight | 13 pounds |
| Efficiency | 70% |

| | |
| --- | --- |
| Original gravity | 1.070 |
| Final gravity | 1.019 |
| Alcohol (by volume) | 6.7% |
| Bitterness (IBU) | 18 |
| Color (SRM) | 12.0°L |

Yeast
3 liquid packs
White Labs
WLP566
Platinum Belgian Saison II Ale




Grains/Extracts/Sugars
13 pounds
2 Row Base
37ppg, 1.5°L
10.5 pounds
80.8%
Dry Sugar - Brown
42ppg, 40°L
1 pound
7.7%
Wheat
38ppg, 2°L
0.5 pounds
3.8%
Crystal 70L
34ppg, 70°L
0.5 pounds
3.8%
Biscuit
35ppg, 25°L
0.5 pounds
3.8%




Hops
1.5 ounces
Goldings (Styrian) hops
5%, Pellet
1 ounce
Saaz hops
4%, Pellet
0.5 ounces




Additions
56.04 ounces
Smoked Pumpkin
Flavor
3 lbs.
Cloves
Flavor
4 whole
Nutmeg
Flavor
4 cracked
Cinnamon
Flavor
5 sticks
Irish moss
Fining
0.04 ounces




Mash
70 minutes, 8.2 gallons
Strike
Target 153°F
4.5 gallons
164°F
60 minutes (+0)
Sparge
Target 168°F
3.7 gallons
178°F




Boil
60 minutes, 6.1 gallons
Goldings (Styrian) hops
5%, Pellet
1 ounce
60 minutes (+0)
Smoked Pumpkin
Flavor
3 lbs.
60 minutes (+0)
Saaz hops
4%, Pellet
0.5 ounces
20 minutes (+40)
Irish moss
Fining
0.04 ounces
15 minutes (+45)
Cloves
Flavor
4 whole
10 minutes (+50)
Cinnamon
Flavor
5 sticks
10 minutes (+50)
Nutmeg
Flavor
4 cracked
10 minutes (+50)




Ferment
28 days @ 68-75°F
Rack to secondary
14 days (+14)



Notes
Smoke pumpkin with Alderwood
Smoke at 250-300F for 2-4 hours or until it becomes soft
Related Recipes:
Sunflower Wheat - A recipe for a nutty style Hefeweizen with toasted sunflower seeds that will ease you into Fall.
Pecan Doppelbock - A recipe for a strong Bavarian style Doppelbock with roasted pecans that will warm you up pre-winter.
Molasses Stout - A strong, dark, warming Molasses Stout with a simple selection of flavoring malts.
Published: September 23, 2011
For additional information on home brewing or homebrew topics please visit our home brewing article center.