The Ultimate Home Brewing Bar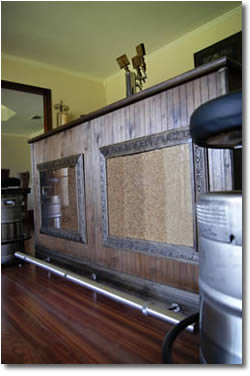 The ultimate homebrewing home bar with step-by-step plans designed for home brewers by our head brewer Christian Lavender.
Many home brewers opt to build a bar within their home as a place to kick back, have fun, relax with family, and entertain friends. And when it comes to building a home bar, one of the advantages is it doesn't have to be a major commitment in terms of labor or money (unless of course, you want it to be). Home bars can run the gamut from a simple and easy construction project to an elaborate and intricate one. I chose the latter.
After attending the Siebel Institute's Advanced Home Brewing course in Chicago last July, I found a greater appreciation for ingredients, processes and beer styles. The class was taught by some of the homebrew legends we all learned from in popular brewing books, but actually being there and hearing their passion for brewing first-hand was inspiring.
I remember thinking that as home brewers we put so much time, effort and care into making our beer, so shouldn't we put the same into serving it? Serving beer in bottles lets you get creative with labels and names, but what about those of us who want beer on draft in our home? There is a time and a place for the trash can, chest freezer or jockey box draft system, but for me, those systems aren't really adding anything special to the beer drinking experience at home.
Home brewers deserve a little bling too, right? So I took this opportunity to kick it up a level and build the ultimate home brewer's home bar. The first question I usually get when serving homebrew to someone new is, "How do you even make beer?" I'm always excited when this question arises, but once you start throwing words out like "wort" and "trub", eyes and minds start to wander. The beer making process is not that simple to explain, so I wanted to let the bar tell the story while it served up my homemade goods.
Barstorming
I thought about the features I would want in a home bar that would specifically cater to my home brewing needs. I knew I wanted it to seat at least four people comfortably, have cold storage for hops and yeast, a triple tap draft system, and tons of storage for glassware, brewing books, bottled beer. Finally, it needed some sort of additional wow factor. I wanted the SRM color scale represented in rows of grains on the front side of the bar and the bar top to have a "how-to brew" pictograph. I knew I shouldn't rush into the build without a little research, so I hit the internet.
The internet is flooded with woodworking forums and bar plan web sites with bars of every size and shape imaginable. You can get some good ideas from other people's bar builds. After looking at multiple styles and weighing my options, I decided on a simple straight style bar about 6' x 2' x 3.75'. The bar would need armrests and foot rails. An assortment of wood would be needed for framing, moulding and shelving. Adding the draft system, refrigerators and epoxy bar top, I could see this was a huge project already, but it was for a good cause. A place for homebrew worship.
Parts, equipment & tool list

• Triple Faucet Built-in Stainless Steel Kegerator
• 1 2/3-Cubic-Foot Built-In Refrigerator
• Traditional Wooden Bar Arm Rest Moulding – Oak – 8' (2)
• Base Moulding (Back) – 7'
• Base Moulding (Front/ Sides) – 14'
• Grain Frame Moulding - 8' (4)
• Panel Moulding
• 2' x 4' x 8' (14)
• Embossed Moulding (8' x 2" x 9/16")
• Ύ" MDF (3/4" x 49" x 97")
• ½" x 2' x 4' Medium Density Fiberboard (Shelves) (3)
• Hardboard 2' x 4'
• Hardboard 3/16 in. x 48 in. x 96 in.
• Glass 24" x 36" (2)
• Brushed Stainless Steel Bar Foot Rail Tubing - 2" x 2'
• Brushed Stainless Steel Bar Foot Rail Tubing - 2" x 4'
• Bar Rail Bracket - Brushed Stainless Steel (3)
• Flush Flat End Cap - Brushed Stainless Steel (2)
• Internal Splicing Sleeve
• Custom Vinyl Graphics 6' x 2' (BuildASign.com)
• Stain - Dark Walnut
• Pipe Insulation
• 1 ½" D PVC – 12"
• 1 ½" Flanges (2)
• Fasteners, Screws, Nails (Various)
• Surge Protector
• Shelf Supports (12)
• Kleer Koat Bar Top Epoxy (2 Gallons)
• Tap Boards (3)



• Compound Miter Saw
• Skill Saw w/ Fine Finish Circular Saw Blade
• Dremel w/ Rotary Tool WorkCenter
• Finishing Nail/Staple Gun
• Power Drill
• Drill Bits
• Biscuit Joiner
• Pilot Hole Jig
• Glass Cutter
• Sander
• Squeegee
• Foam Brushes
• Staining Pads
• Graduated Mixing Tubs
• Stir Sticks
• Propane Torch
• Striker
• Protective Eyewear
• Gloves
• Mask
• Wood Glue
• Bar Clamps
• Painter's Masking Tape
• Hammer
• Hack Saw (Door Jam Saw)
• Tape Measure
• L-Square Ruler
• Level
• Scraper
• Folding Tables or Saw Horses
• Wood Filler
• Sandpaper
• Pencil
• Silicone

Frame
Looking at all of the raw materials lying on my garage floor, I realized this project's success was going to be largely based on my measuring and woodworking abilities. Installing a draft system is second nature to me and nothing to worry about, but I had to channel all the memories of days spent watching my dad build furniture and cabinetry. I started with some 2x4s to lay out a base frame for the bar. Protective eyewear went on and I started becoming extremely conscious of every move made with the power tools. I cut them using my compound miter saw (regular chop saw would work here, too) to the following lengths:

• 4 – (2"x 4"x 6')
• 12 – (2"x 4"x 25")
• 8 – (2"x 4"x 43 ½")

I set up a pilot screw jig on a folding table and started drilling holes in pairs for the small interior framing 2x4s (2"x 4"x 25"). Only eight of the twelve boards needed the two sets of pilot holes on each end. I continued with pilot screw holes in the four (2"x 4"x 6') drilling the same pair of holes on each end. Now I was ready to start putting the frame together. I laid out two of the six foot 2x4s parallel and two of the small interior framing 2x4s (2"x 4"x 25") with no drilled holes on the ends and screwed the pieces together. I used a small amount of wood glue on all joints just as additional support.

I next measured out the dimensions for the kegerator and shelve sections. The kegerator would need 25 7/8" of width clearance and the rest would be the shelve sections divided equally on either side. I dropped in my smaller 2x4 supports with pre-drilled pilot holes with the interior 43 ½" 2x4s sandwiched in between. The width of the inside edges of these 43 ½" 2x4 was measured out to give me my necessary kegerator clearance width of 25 7/8". I screwed everything down and moved on to the exterior 43 ½" 2x4s. Making sure the boards were level and square, I screwed the boards on from the outside of the frame with 2 ½" construction screws and some glue. I clamped the ends and let the glue dry for a few hours. Once dry, I flipped the frame over and repeated the steps above for an identical frame on the bottom of the bar.

The next step was to add bottom boards and interior backer boards. I used a skill saw, tape measure, L-Square and a pencil to take my measurements and make my cuts. Right and left bottom boards were cut to 28" x 22" and the center bottom board was cut to 28" x 25". I tacked them in using a finishing nail gun and 1.5" brad finishing nails.

Interior side walls came next, and I made my cuts for the six panels needed. Left and right interior wall boards were cut 36" x 28" and because the inner wall support beams are not set as wide as the outer boards, I cut four boards to 36" x 25". I tacked the boards in using the nail gun. I found that wood is a tricky material to work with when you are dealing with warped sections, knots, and in my case, temperatures over 100 degrees. (So, at this stage in the build, make sure you actually put the draft refrigerator in to be sure it fits with enough clearance.)

The kegerator used in this project is built for under-counter use and requires adequate space and ventilation to perform at its best, so I designed this bar to allow the kegerator to expel hot air around and through the shelf sections. The center support beams and interior walls leave a two inch space to allow great circulation of air to keep the refrigerator cool.

Trim & Moulding
Time to add the exterior panels and trim with cutouts for the grain frames. I had the guys at the hardware store cut my panels into 4' x 4' sections which made them easier to handle. With my skill saw I cut two panels for the sides to 43 ½" x 28". My front panel was split into two sections both measuring 37 ½" x 44". I added a support 2x4 behind where the two panels meet. This gave me something to nail the panel into and make an unnoticeable seam. On each panel I measured down 10" from the top and then 4" from the right side on the right panel, and 4" from the left side on the left panel to make my jig saw cuts for the frames. The openings measured 21" x 27". When the cuts were completed I nailed the panels down with the finishing nail gun and the 1 ½" brad nails.

Shelves were needed next, so I measured out three shelves (25"x 21 ½") using the medium density fiber board and cut using the skill saw. I had some decorative moulding for the front side of these shelves, so I nailed them on. I didn't get very precise with my shelf heights, but I did use a level when mounting the shelving brackets. (You can always come back and punch out a few new holes if you need to raise or lower them in the future.)

The same moulding I used for the fronts of the shelves was used for the corners of the bar to cover where the decorative panels met. These mouldings were in the shape of an L and were cut to 36 ½". I chose some Victorian style baseboards for the front and sides of the bar due to their height. I would be adding a foot rail later in the build and needed a baseboard with at least 6" height for mounting the foot rail brackets. Here's where you really need a compound miter saw. I measured out a 77" section and two 28.5" sections. I made some 45 degree cuts using my measurements as the long side of the cuts and glued/nailed them into place. To get a nice smooth corner I used stainable wood filler, let it dry and then sanded it until I had rid the corner of roughness.

Grain Frames
Now I needed to get started on the grain frames. I wanted four vertical columns of different colored grains in each frame between two layers of glass. I chose to do this, so I could light up the grains from the inside at some point if I wanted to. Otherwise you can just create a top layer of glass and a solid backboard.

I took some of the decorative grain frame moulding and measured out enough wood for two 30 x24" frames. These are the long side measurements after you make your 45 degree cuts using the compound miter saw. Not having a router, I set up a Dremel tool in a rotary workstation. This let me use the Dremel as a router with a special 1/8" wood routing bit. I wanted to groove out two channels in each piece on the inner side of the frame to allow the glass to slide in, but leave enough room in between for one layer of grain. I set the Dremel bit height for a 1/16" deep groove and started my routing. (You may need to tweak this measurement depending on your glass cutting precision, but it is a good place to start.)

I bought some glass panels and a glass cutting kit that had a wax pen, glass cutter and cutting oil. Handling glass is never one of my favorite activities. I actually dread dealing with glass carboys. I've seen too many accidents. I wore protective eyewear, gloves and made sure to take off my flip flops and put shoes on. I never thought cutting glass was going to be a big deal and boy was I wrong. I needed four 18" x 24" panes of glass which meant all I needed to do was cut my 36" x 24" panes in half. Sounds easy right? Wrong. I spoke with a guy at the hardware store and he mentioned that the heat (111 F that day) was going to make cutting glass with a clean edge almost impossible. After four botched attempts I really took my time and made sure to clean the glass front and back with window cleaner where I was going to make the cut. Finally I snapped the correct sizes and victory was mine.

I sized the glass in the frames before connecting all the frame pieces. Using a biscuit joiner, I made cuts on all the frame ends with #10 biscuits and started constructing a framing jig. I threw some 2x4s together, so I could glue my frame together and slide it into the jig to dry. (You can also use a framing clamp or regular bar clamps for this.) I left off a side piece of the frame, so I could slide in the glass and grains after the three sides finished drying.

Next, I stained all of the frame wood, so I wouldn't need to mask it off later. Once the stain dried, yet another hard task in the Texas heat, I slid in my glass and measured out four 6" sections with tape. I started to add in my grains. Rolling up a piece of paper to make a small funnel seemed to work well navigating the grains down into their final resting place. This was time consuming. After the last grain fell in I was able to glue down the last frame side to seal everything together. I did this for both frames. (I got some help picking out the right grain color spectrum from Dave, Luke and Christian over at Austin Homebrew Supply. Thanks guys!)

Bar Top
For the bar top, I took a piece of ¾" MDF and cut it to 71 ¾" x 27" using my skill saw. Next, I cut my front side arm rest at 45 degree angles to measure 77 ¾" on the long side. I made matching 45 degree cuts for the left and right side arm rails and cut them to 30 ¾". The biscuit joiner came in handy again for cutting nice slots out for #20 biscuits. I lined up the armrests on the bar top, glued and clamped the pieces together. You may have to use shims (I used biscuits) to level out your bar top and align your arm rails. I used stainable wood filler on the corner joints, let it dry and then sanded.

I wanted the bar top to have some sort of teaching element, so I mocked up some step-by-step brewing graphics, had them printed out by a local company (Austin Graphics), and I was able to pick up a 6' x 2' adhesive vinyl banner within a few days. The top needed to be covered in an epoxy coat to seal in the graphics and protect the bar top from spills. I had to construct a clean room using plastic tarps and also had to shut off the A/C vents to limit particulate in the air. Layering epoxy on the bar is a long multiple step process, but anything with a blow torch as a required tool seemed fun.

Any dust, hair insects, etc. that hit the epoxy will stay in the epoxy forever, so I had to clean the room a million times before I started. I gathered my tools which included the Kleer Koat resin and hardener, measuring buckets, squeegee, sponge brush, stir stick, propane blow torch and headed into the clean room. The first layer of epoxy is called the seal coat and only required a small amount. I poured together equal parts of resin and hardener and waited four hours for this to dry. This coat is just to seal everything and pull out any small oxygen bubbles on the surface of the graphic and wood top.

The next coat is called the flood coat. You guessed it, the same mixing ratio of resin to hardener depending on your square footage and mix, mix, mix. Mixing for this took around ten minutes using a painting stir stick. Your wrists get tired, but this is the most important part of the job. You have to slowly mix the epoxy without whipping the mixture. Air bubbles at this point are bad things. The mixture has a haze in the beginning, but after about ten minutes of mixing, it clears up, letting you know it is ready.

After just one flood coat and twenty four hours to cure, the bar top looked great. During this dry time I started staining the rest of the bar. I used a combination of staining pads and sponge brushes to get into small places. Time to put the bar top pieces together. With help from my buddy, we placed the bar arm rest on the ground upside down and placed the bar top in. I nailed the bar top into the arm rest from underneath so you could not see any nail marks on the top side.

Once this was completed, we put the bar top back onto the bar frame and I drilled a hole for the tower. The hole diameter measured 2 1/8" and was centered using the instructions in the kegerator manual. (12" from left to midpoint, 12" from right to midpoint and 12.5" from front to midpoint) While my buddy was here I asked if he would help me carry the bar up the front stairs and into the house. We agreed to a price for his labor which was a case of his favorite beer.

Tower
From the draft tower down to the kegerator is a 7 – 8" gap, so I mounted a couple 1 ½" flanges, one on the kegerator and one on the underside of the bar top. (I already had a few of these and they were cast iron, but if you can find plastic that would probably work better.) These are most commonly used in sprinkler irrigation systems and pool pumps. Between these two flanges I ran a piece of 1 ½" PVC pipe and insulated it with HVAC insulation. Next I slid the beer lines down the PVC and into the kegerator, aligning the tower on the bar top.

I marked the tower holes and drilled some pilot holes for the bolts that came with the draft tower assembly. The bolts went into the tower through the bar top and flange and were secured with a washer and hex bolt. Unfortunately, the pre-drilled holes in my flange did not align with the pre-drilled holes in my tower, so I had to drill new holes. I used a little WD40 as lube and drilled down through the cast iron with a metal bit, roughly the same diameter as the bolts. I used plastic gaskets with the flanges and on the bar top tower to seal everything together. The final touch to the tower was three Tap Boards: chalkboard, white and black dry erase. These allow me to write and erase my homebrew names as needed.

Final Touches
A bar just isn't complete without a footrest, so I ordered 6' of brushed stainless steel tube, rail brackets and end caps to give my tired dogs a place to rest. The rail brackets required a few pilot holes to secure the footrest to the bottom of the bar. I drilled through the moulding and 2x4 framing and tightened the brackets down, slid in the tube and capped the ends.

The kegerator I purchased came with an air tank, 3-way air distribution valve, and beer and gas line fittings to dispense beer out of three kegs. This means all of the kegs are under equal pressure. I like to keep my air system simple, but you could purchase two or three valve regulators that would allow you to control the amount of pressure in each keg. I have a few other systems in my garage that I use for force carbonating, so the CO2 saturation is set before the kegs enter the house.

My hops and yeast went into the mini-fridge and the temperature was set to 33-38 F. Avoid freezing the yeast as ice crystals will rupture the yeast cell walls. The mini fridge is a great place to store your harvested yeast, starters and any bugs you happen to be culturing.

Under the mini-fridge, I used the shelf space to store my grains. I was able to fit a full bag of 2-row and a few other bags of mixed grains. Enough grain to brew around 25 gallons of all-grain beer. On the remaining shelves I stored some brewing books and magazines, an assortment of glassware and other brewing equipment that never had a good home until now.

The bar has reached completion and is ready to enjoy. I pushed my woodworking skills to their limit, but this project was a lot of fun. I already have a wish list of additional features I will add in the future like a built-in yeast stir plate, hop scale and under-counter lighting.

For me, home brewing is not only a very rewarding hobby, it's a creative outlet and a lifestyle. It brings people together and builds community among friends, so whether you build a bar like mine or something a little more simple, invite over some friends and enjoy some brew time.
| | |
| --- | --- |
| | Christian Lavender is a homebrewer in Austin, TX and founder of Kegerators.com and HomeBrewing.com. |
Related Home Brewing Projects:
Build an Insulated Keg Fermenter - Learn how to build an Insulated Keg Fermenter and get more temperature control.
How to Build a Hop Filter - A look at a more modern design for the inline hop filter and why most designs tend to be stymied by the clogging action effected by the hop sediment.
Build a Home Brewing Kegerator Fermentation Chamber - Build a kegerator fermentation chamber for the ideal storehouse for fermenting and lagering beers at different temperatures.
Published: November 16, 2011
For additional information on home brewing or homebrew topics please visit our home brewing article center.