Home Brew Moves from Brewing Parties to Brewing Co-ops
Most home brewers get their supplies form their local home brew shop. But how did that shop start? Most likely, it was a small group of brewers who shared an interest in buying in bulk to save money. The result was offering a service to the public in order to save even more and eventually get paid to brew beer and to help others. Now, imagine if you got a large group of people together to order your home brewing supplies. By doing this, you could save without the middleman's mark-up. Now, if all of the brewers in a town got together and worked in the same shop, the combined ingenuity would benefit all. This is a model for a brewer's cooperative. Pretty soon, you'd have to start selling either the beer just because you'd be making more than you could drink.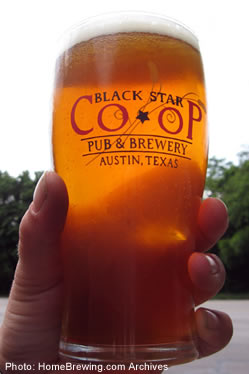 Brewing co-ops usually have a business focus, but this doesn't necessarily have to be the case. Buying co-ops are another way to go, where the focus is on keeping the organization small and hassle-free. For those brewing co-ops that choose to go the route of the business model, there are three types of services for which we can see successful models: Commercial Brewery, Brew Pub, and Brewing Supply.
One shining example of workers seizing the means of production by the reigns is the Pony Express line of beers. Pony Express Gold, Pony Express Original Wheat, Pony Express Rattlesnake Pale Ale, and Pony Express Tornado Red Ale are all beers produced by the 1st Grower-Owned micro-brewery in the United States. Pony Express is owned and operated by a cooperative of Missouri farmers called TransCon AG. TransCon AG has helped Pony Express gain distribution in China and Taiwan; as well has improved the profitability of both farms and the Pony Express Brewery. With the success of Pony Express, they have even gone public and offered shares of stock on the market.
An opportunity for Co-op minded brewers is raising its head in Austin Texas as well. The Black Star Brewing Co-op is a group of comrades that are slowly working their way towards a profitable business. According to their Website, www.blackstar.coop, their membership is over 800 people strong without even opening up their doors! Their goal:
"We are a co-operative business based in Austin, TX working to open world's first cooperatively-owned and worker self-managed brewpub."
Black Star's concept is to start networking by throwing parties. Their monthly beer socials generate revenue for the budding brewpub and also helps to attract new members. Prospective members can sign up as invested members for $85 and start having access to the Black Star brewing equipment, and a vote in the members assembly, or just start with a $15 fee and slowly pay up to the $85 full membership fee. After two years, the Black Star Co-op has made enough revenue that they are scouting locations for their brewpub, so they must be having a good amount of success! Time will tell if they are able to move from beer social to brewpub.
As far as brewing supply co-ops, one profitable organization that can be found is a little warehouse in Santa Cruz, California. Seven Bridges Brewing Cooperative started in 1997 with the plan to help home brewers to have access to organic, pesticide free beer brewing supplies. Since then, Seven Bridges has managed to branch out successfully into the coffee market. Seven Bridges sells organic, green, un-roasted coffee both locally and nationally through their mail order business. Seven Bridges also sells home coffee roasting units, enabling people to roast their coffee to their own notion of perfection.
We can see that there is a lot of profit in working together to form a brewing co-op. For information on the history of cooperatives and keys to working in a collective workplace, you can visit wikipedia at http://en.wikipedia.org/wiki/Cooperative.
Published: August 6, 2009
For additional information on home brewing or homebrew topics please visit our home brewing article center.